Accounting–Financial Accounting Total-Beginners to Advanced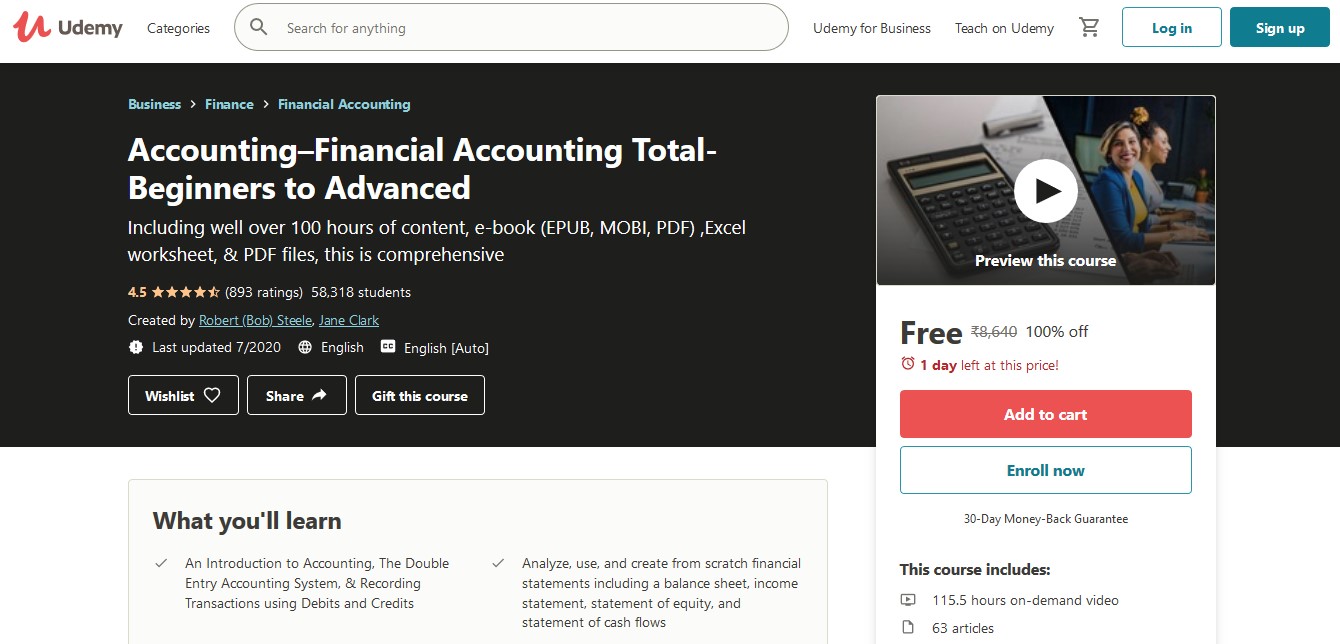 Accounting–Financial Accounting Total-Beginners to Advanced
Including well over 100 hours of content, e-book (EPUB, MOBI, PDF) ,Excel worksheet, & PDF files, this is comprehensive

This course includes:
115.5 hours on-demand video
63 articles
672 downloadable resources
Full lifetime access
Access on mobile and TV
Assignments
Certificate of completion
What you'll learn:
An Introduction to Accounting, The Double Entry Accounting System, &
Recording Transactions using Debits and Credits
Analyze, use, and create from scratch financial statements including a balance sheet, income statement, statement of equity, and statement of cash flows
Use the concepts of the double entry accounting system
Record financial transactions using the accounting equation
Record financial transactions using debits and credits
Learn when and how to use accounting methods such a the accrual method and cash method
Apply the concepts related to the revenue recognition principle and the matching principle to recording transactions and reading financial statements
Record period end adjusting entries and be able to explain why adjusting entries are necessary is a well designed accounting system
Record merchandising transactions. Record transactions involving inventory
Track inventory using cost flow methods like FIFO, LIFO, and Weighted Average Methods
Create and use subsidiary ledgers like accounts receivable by customer and accounts payable by vendor subsidiary ledgers
Learn how to create and use special journals and how they can be part of an accounting system
Construct and interpret a bank reconciliation, one of the most critical internal controls
Be able to implement internal controls over cash
Value account receivable and record bad debt expense using either the allowance method or direct write off method
Calculate depreciation using different depreciation methods including straight line depreciation, double declining balance, & units of production depreciation
Record payroll transactions and calculate net pay and income tax withholding
Record transaction specific to partnerships including methods to allocate net income to the partners, adding a new partner, and a partner leaving or selling a partnership interest
Record transaction specific to a corporation including selling capital stock, selling preferred stock, buying treasury stock, issuing cash dividends, and issuing stock dividends
Record transactions related to the issuance of bonds
Record transactions related to notes payable. Learn to create an amortization table.
Construct a statement of cash flows using the direct method and indirect method. We go into more detail about best practices to construct a statement of cash flows than any other course we have seen
Requirements:
This course is an excellent course for beginners as well as advanced learners. We start from the basics and move all the way through financial accounting topics in a systematic way. We will be using some Microsoft Excel worksheet, but we will start off slow as we learn Excel as well. If you do not have Excel, you may be able to open the files using Google Sheets, which is free. If you do not have either of these options, you can move forward without this component of the course. However, Excel worksheets are where learners get to really engage with the material and work through problems. Therefore, we do suggest getting access to Excel or Google Sheets at all possible.
Course Description:
Recently updated with A LOT of added content.
Includes downloadable e-book in multiple formats so you can open it on your tablet or Kindle – Formats (EPUB, MOBI, PDF).
This course is an excellent supplement for students or anybody who wants to learn accounting and also have something they can refer back to in the future. Udemy generally provides lifetime access to the course.
Many accounting students do not receive a physical book, they get to keep from their school, and even if they did, the information could become dated. Students who want a useful reference tool they can keep, and one that can be more easily updated then a textbook, will benefit from a resource such as this.
Financial accounting is a LARGE topic and is not something that can be done well in 5, 10, or 20, hours of content, as you may see claimed elsewhere. We will cover accounting theory because theory and concepts are what accounting is. We need to learn theory so we can make appropriate adjustments in the real world. Learning procedures without understanding the theory will make us inflexible and unable to adapt to the ever-changing environment. We will learn the theory while we apply them to procedures.
Financial accounting is relatively standardized in format. In other words, most accounting institutions will cover much the same topics, often in much the same order. We suggest looking up a standard accounting textbook, checking the index, and comparing the topics to the courses you are considering purchasing. We believe this course will line up well to anybody's needs who want to learn financial accounting.
Below is a list of topics by section:
Section SEC 1 An Introduction to Accounting, The Double Entry Accounting System, & Recording Transactions using Debits and Credits
Section SEC 2 – Recording Period End Adjusting Entries
Section SEC 3 – Recording Closing Entries
Section SEC 4 – Merchandising Transactions – Transactions Involving Inventory
Section SEC 5 – Inventory Cost Flow Assumptions (FIFO, LIFO, Weighted Average Methods)
Section SEC 6 – Subsidiary Ledgers & Special Journals
Section SEC 7 – Bank Reconciliations & Cash Internal Controls
Section SEC 8 – Accounts Receivable – Allowance Method & Direct Write Off Methods
Section SEC 9 – Depreciation Methods & Property Plant & Equipment
Section SEC 10 – Payroll Accounting
Section SEC 11 – Partnership Accounting
Section SEC 12 – Accounting for Corporations
Section SEC 13 – Bonds Payable, Notes Payable, & Long-Term Liabilities
Section SEC 14 – Statement of Cash Flows
The course will start off at the basics and work all the way through the financial accounting topics generally covered in an undergraduate program.
Who this course is for:
Aspiring accounting students who have an interest in the topic
Accounting professionals
Anyone who whats to learn accounting
Accounting and business students who want a reference source to the material they can actually keep, unlike most digital textbooks used in most accounting programs these days
Business professional who want a comprehensive reference to standard financial accounting topics they can refer to
Accounting–Financial Accounting Total-Beginners to Advanced
Accounting–Financial Accounting Total-Beginners to Advanced
Limited Time Offer
Join Our Groups For Instant Updates